Today we're collating all of our favorite curtain tips and tricks into one blog post. If you're on the hunt for some new curtains there will be something here to help you!
Choose the right curtain fabric
Let's start off our curtain tips with one of the most important, curtain fabrics. When choosing curtain fabrics, take into consideration your room and what you're working with. A dark fabric, or something with a big print on it, whether that be florals or otherwise its all going to make your room feel smaller and more enclosed. Sometimes this can help to achieve the look you want, specifically if you're going for a cosy, compact feel.
For a lighter, bigger feeling room it's best to steer away from big prints or dark colours. Choosing light-coloured fabrics in plain colourways or small subtle prints is the best route to go down. Floaty sheer fabrics like voiles also lend themselves to this feeling as they add another dimension to a room without detracting from the room décor.
Curtain Colour Focus
Colour is always important when putting together the feel of a room. Balancing out the colours already in your room through the curtains is an important tip. If your walls are a single colour it's good to mix things up and introduce a new element by adding different coloured curtains. Or if you're after a more minimal look then matching your curtain to your wall exactly creates another way to tie a room together is to make the curtains the same colour as a couple of accent pieces in the room, for example, a rug or cushions.
Press or steam the curtain
This is the simplest trick in the book, but it really does make a world of difference if you press or steam your curtains before hanging them. Crumpled and creased fabric makes the curtain look old and tired before you've even got it up! Take the time to give it a quick press, for a fresh look
Create the illusion of space
Installing the curtain pole or track a few inches higher than you normally would is an awesome curtain tip, as it lifts the eye and makes the ceilings look higher than installing the curtain just above the window would. To keep with the traditional look you're aiming for, using a little extra fabric, so the curtain just brushes the floor.
When it comes to choosing fabric, going for something vertically striped helps to make the ceiling look a little higher, as the lines draw the viewer's eye up the curtain!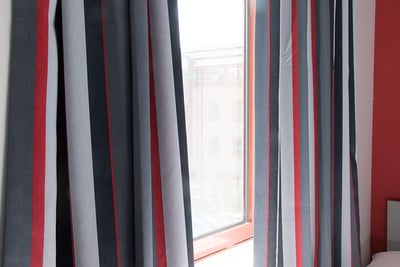 Weighted Bottoms
Sometimes if you're using very lightweight fabric for your curtains, once hung it's common for them to drape a little awkwardly. There's a simple solution to this problem! Slip some weights into the curtain hem, which helps the curtain to hang straight and drape nicely.
Thanks for reading this post, and hopefully some of these tips helped you out on your window furnishing journey!
For curtain mistakes to avoid have a read of this blog post, and don't forget to check back soon for more content coming up!