Curtains are so important when it comes to finishing off a room's interiors. They often are the difference between a room just being a room, to making it a welcoming space to be in. There are many different types of curtains available. From pinch pleats, pencil pleats, and eyelets being just a few popular choices. Curtains can be chosen to enhance a room feel or for a specific purpose depending on what the room is going to be used for. In the video below, our Soft Furnishings Specialist Ebony goes into detail about the different types of curtain headings!
Different types of curtains explained!
Popular types of curtains
Pencil Pleat
Pencil pleat is the most popular type of curtain heading and often the most cost-effective. They are widely used in all sectors and homes. Pencil pleat headings are normally three rows of string threaded through it for three hook positions. The hooks which can be metal or plastic can be put in 1 of 3 pockets depending whether you want the curtains to be underslung or to cover the track. Pencil pleat heading suits all types of pole or track and is often the most common type of heading used when hanging curtains under a pelmet.

Pinch Pleat
Pinch pleat headings work on all types of poles and tracks. However, because pinch pleat is a bespoke decorative heading, it is a lot more gathered than other curtain headings.
One of the main benefits of the pinch pleat heading is that it looks great and they stack back neatly as the space folds in the middle.

Eyelets
Eyelet curtains are only suitable for poles so they do not work for tracks! They are called eyelet because of the large metal rings punched through the top of the curtain instead of normal header tape. The rings can be matched to the pole to provide a consistent look.
Eyelet curtains are great for use in the care home or student accommodation sector, as they hang very straight and maximise light in the room as well as being strong and robust. Not quite as much material is needed when using eyelets as would be needed within a curtain with a taped heading. As they are not gathered in the same way, this means they are economical to produce.

Wave Heading
This type of heading was designed for use with Silent Gliss tracks. However, there are now other variations of it out there, using similar names. A wave heading works in a similar way to a pencil pleat but is not drawn up using cords. It uses a glider cord instead which ensures a consistent wave effect is maintained whether curtains are open or closed.
The wave heading is mainly used in areas that mean it will not get high wear such as hotels or more leisure orientated accommodation. It's suited well to this sector as it maintains a smart straight look and hangs well whether it is lined or unlined, perfect for a formal feel like a hotel.
Anti- Ligature Curtains
Anti Ligature curtains can be made in many ways, mainly depending on the risks that could arise at specific sites. Curtains with sewn down headings, where the strings are removed. Heading with no tapes and fixed lining options with no gaps are all things that are available to customers here from our soft furnishing specialists. These specialists work with challenging environments regularly and are on hand to help our customers decide what would be best for their environment. It's important to us here at Bridge to combine the best functions of safety that can be achieved without compromising on the look and feel of the curtain.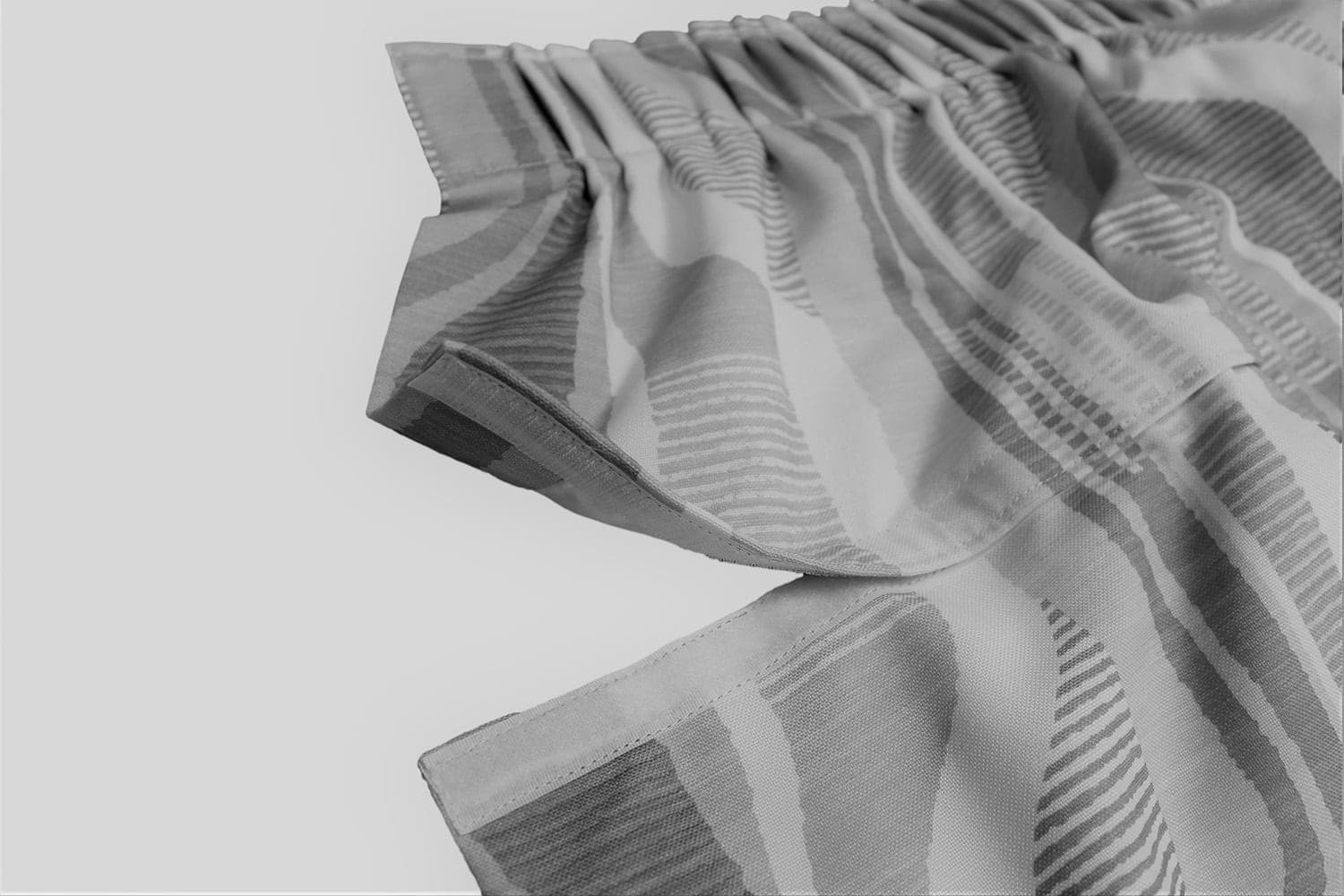 Interested in purchasing curtains for your establishment?
Get in touch with us today! One of our team will be on hand to help you decide what curtains would be best for your environment.